Strong Partnerships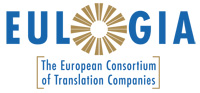 Eulogia: pan-European consortium of translation companies
With members from 21 European countries, Eulogia is a pan-European consortium of translation companies providing innovative multilingual solutions. Each member company within the organization represents one EU language, which means strong partnerships for all the languages of Eastern and Western Europe. Through its membership in the Eulogia consortium, Lexcelera and its partners offer the in-country expertise of more than 10,000 specialist translators.

TAUS, the Translation Automation Users Society
Lexcelera is a founding member of TAUS, which represents leaders from across the industry. TAUS is a think tank for the translation industry, and undertakes research for buyers and providers of translation services and technologies.
Translators Without Borders

In 1993, a meeting with a representative of Doctors without Borders (Médecins sans Frontières) led us to create Traducteurs sans Frontières. This not for profit association provides pro bono translations for humanitarian organizations, supporting the activities of aid groups such as Doctors without Borders, Action Against Hunger, Unicef, Oxfam and Handicap International. In 2011 the sister organization, Translators without Borders, became a U.S. 501 (c)(3) non-profit corporation in California in order to work alongside global NGOs in their humanitarian activities.