In 1993 Lexcelera founded Translators without Borders to provide pro bono translations to humanitarian organizations. Since then the non-profit association has donated more than $2 million worth of free translations to aid groups such as Doctors without Borders, Action Against Hunger, Unicef and Handicap International.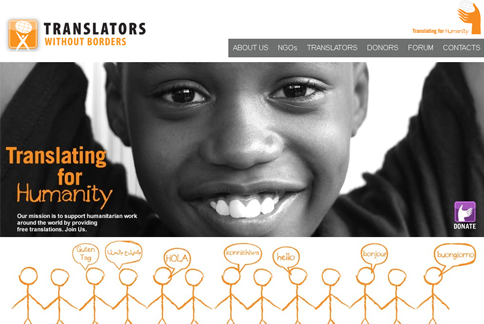 Translating for Humanity
In order to support NGO activities on a global basis, in 2010 we established Translators without Borders as an American 501 (c) 3 non-profit corporation, registered in California.
Visit our website: www.translatorswithoutborders.com
Lexcelera co-founder and CEO Lori Thicke is President and Chairman of the Board, while Ros Smith-Thomas remains President of the French charitable entity, Traducteurs sans frontières.
Board Members for Translators without Borders:
Simon Andriesen, founder and CEO of MediLingua
Renato Beninatto, President of the European Language Industry Association (ELIA)
Andrew Bredenkamp, co-founder and CEO of acrolinx
Cornelia Buttmann-Scholl, founder of Cbstrad
Henry Dotterer, founder and president of ProZ.com
Salvatore (Salvo) Giammarresi, Localization Director at Yahoo
Daniel Goldschmidt, Localization Manager at Microsoft and cofounder of RIGI Localization Solutions
Ghassan Haddad, Director of Internationalization and Project Management at Facebook
Françoise Henderson, co-founder and COO of Rubric
Ulrich Henes, president of The Localization
Donna Parrish, owner and publisher of MultiLingual Magazine
Uli Paulin, Consultant
Sergio Pelino, Senior Localization Operations Manager at Google
Rebecca Petras, founder of Petras Associates
Nico Posner, Principal Product Manager, International at LinkedIn
Paula Shannon, Chief Sales Officer, Senior Vice President and General Manager of Lionbridge
Michael Smolens, founder of dotSUB
Lori Thicke, founder and CEO of Lexcelera, co-founder of Traducteurs sans frontières and Translators without Borders
Translators without Borders is now looking to increase its support for NGOs. Thanks to the development of a web-based platform to host the community of TWB volunteer translators and facilitate their interaction with NGOs, our aim is now to increase from the one million words currently translated per year to ten million. The platform, developed in cooperation with ProZ.com, allows translators to accept assignments automatically from NGOs. It also enables translators to work either individually or in a crowd-sourced environment, and supports a wide variety of content formats such as online subtitling of humanitarian videos. Google and dot sub.com have also contributed important technical components to ensure maximum scaleability.
Access to Knoweldge in Local Languages
Translators without Borders has initiated a project to help NGOs in Africa provide access to information, particularly critical health information, in their local languages. Known as Emerging Languages Mentoring or ELM, this program aims to support translators in under-resourced African languages such as Kiswahili in upgrading their skills, accessing tools and training, finding new markets and increasing their access to high speed computing and Internet networks.