Lexcelera makes machine translation easy.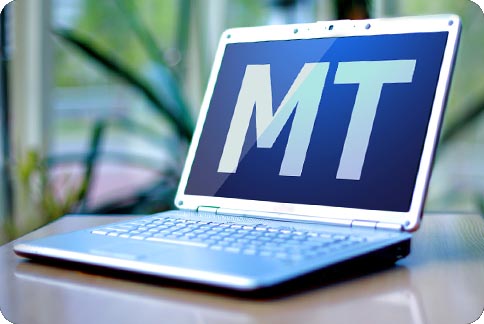 As the industry leader in technology agnostic machine translation, Lexcelera has extensive experience in all approaches to translation automation: Rules-Based (RBMT), Statistical (SMT) and Hybrid. Lexcelera provides a complete service, rather than a single technology, guaranteeing absolute objectivity when it comes to determining which approach performs best according to the content and language pairs. And this makes it easy for our customers to benefit from:
reduced unit translation costs,
increased speed of translation throughput,
increased productivity,
improved terminological consistency and translation quality.
Lexcelera works with a variety of MT engines, depending on the language combination and document type. Our experience has shown that properly trained machine translation is suitable for a wide range of languages including French, Spanish, Chinese, Japanese, German, Italian, Dutch, Portuguese, Arabic and Russian.
Computer-generated translation from a trained MT engine is suitable for functional information such as Customer Support and User Generated Content. Machine translation output that is improved by a human post-editor is indistinguishable from a human translation on publication-quality material including manuals, eLearning courseware, software documentation and online help, all of which must be translated to the highest quality standards.
As an early innovator in machine translation technology, Lexcelera has optimized processes for:
machine translation training and customization,
machine translation processing and maintenance, and
machine translation post-editing.
Lexcelera's MT services are available as a managed process or on a hosted SaaS model.
Machine translation is of particular interest to global enterprises that have already maximized the savings made possible by translation memory tools. Machine translation is now the technology capable of delivering the most significant cost savings as well as major gains in translation speed and productivity. However, these gains are not available 'out of the box'. Training and customizing MT are essential to unlocking its potential.
Lexcelera has brought the benefits of machine translation to leading companies by applying proprietary processes for training individualized MT engines in a wide range of language pairs, post-editing machine translation output to meet rigorous quality metrics, and updating machine translation engines in real-time in order to implement the latest terminology. We also provide authoring assistance for technical writers to further improve machine translation results as well as providing user training and support.
Machine Translation and Language
Where machine translation is concerned, not all languages are created equal.
Some languages, such as French and Spanish, work well with either a rules-based (RBMT) or statistical (SMT) engine. Others, like German and Japanese, work better with one approach (in this case, rules-based). And still others, Korean for example, are a challenge no matter what engine is used, so they may require a creative solution (such as working from Japanese into Korean rather than from English).
Lexcelera has extensive experience training machine translation engines and post-editing in a wide variety of languages.
LexWorks Ltd.
LexWorks (click here to visit the website) is a Lexcelera company 100% devoted to machine translation services.