How many people actually speak English?
English is one of the most widely spoken languages ​​in the world, and more and more people are learning the language of Shakespeare.
In fact, English is the 3rd most spoken language in the world after Mandarin and Spanish. Today, approximately:
450 million people speak English as their first language
750 million speak English as a foreign language
As the map below reveals, English is understood by a significant proportion of the world's population.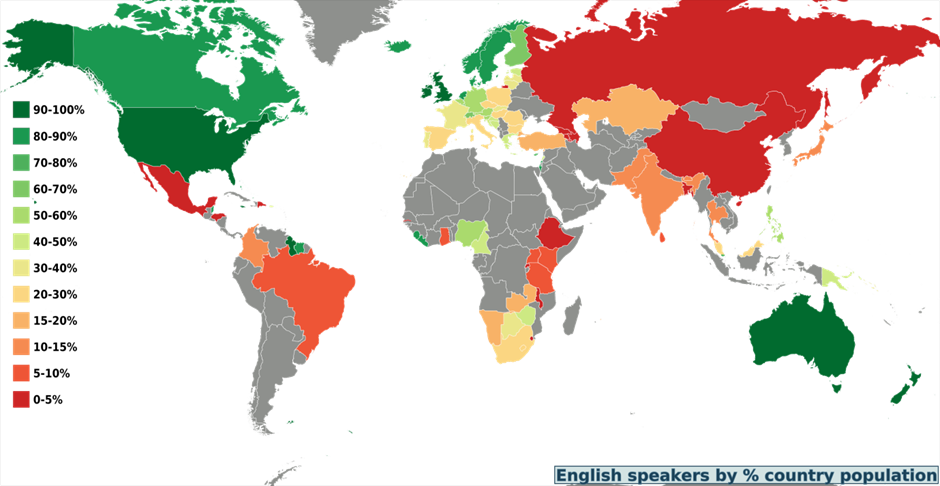 Some companies believe that they can succeed in their internationalization strategy with English translations only. Yet only 1.2 billion of the more than 7 billion inhabitants of our planet speak English (The rest speak approximately 7000 languages). So to answer the question "does everyone speak English?".
The answer would be "no".
But you don't need to translate your website into 7000 languages. According to the Common Sense Advisory, an independent research firm, you would have to translate your website into just 14 languages ​​to be understood by 80% of the online world.
Even if English is one of the most widely spoken languages, translating only into English (or only into Chinese or Spanish) could lead to missing out on promising markets. In addition, speaking directly to your target markets in their language helps you avoid any ambiguities that could harm your company's image. Optimizing content in multiple languages can help you win your customers' trust.
For your website, more languages = more markets, more visitors, more customers
On e-Commerce sites, customers are six times more likely to make a purchase when addressed in their language, according to the Common Sense Advisory.
Translation to the languages of your target markets can also improve your position on local search engines with multilingual SEO to bring international visitors to your site.
If you want to sell your products or services on a specific market, consider translating your content and website into other target languages, in addition to English.
At Lexcelera, languages ​​are our passion.