Today is International Translation Day!
In celebration of this special day, the team at Lexcelera would like to send out a big thank you to all the translators who work with us.
We would also like to acknowledge all the translators who have volunteered to work on the life changing humanitarian projects managed by Translators without Borders.
A little history from Wikipedia about this special day
"International Translation Day is celebrated every year on 30 September on the feast of St. Jerome, the Bible translator who is considered the patron saint of translators.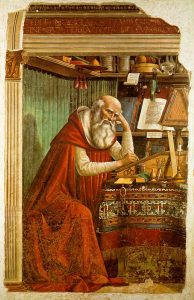 The celebrations have been promoted by FIT (the International Federation of Translators) ever since it was set up in 1953.
In 1991 FIT launched the idea of an officially recognised International Translation Day to show solidarity of the worldwide translation community in an effort to promote the translation profession in different countries (not necessarily only in Christian ones).
This is an opportunity to display pride in a profession that is becoming increasingly essential in the era of progressing globalisation."
If you would like to share this message in your community, here are a few different ways to say it:

¡Feliz Día Internacional del Traductor! (Spanish)

Happy International Translation Day! (English)

Buona Giornata mondiale della traduzione! (Italian)

Joyeuse journée mondiale de la traduction ! (French)

Feliz dia Internacional da Tradução! (Portuguese)

Alles gute zum Internationalen Übersetzertag! (German)

祝国际翻译日快乐!(Chinese)

Vesel mednarodni dan prevajalcev! (Slovenian)

世界翻訳の日おめでとうございます!(Japanese)

С Международным Днём Переводчика! (Russian)

هنيئا لكم جميعا بمناسبة اليوم العالمي للترجمة (Arabic)
Related posts