Today is International Mother Language Day
With the dominance of English on and off the Internet, maybe it's time for us to talk about why Mother Language Day matters.
As the founder of Lexcelera and Translators without Borders, I try to be a voice for local languages. But surprising as this may sound, languages per se are not my passion. Equal access to information for everyone on the planet is my passion – and language is how we get there.
Language can be a door that keeps knowledge out or a window that lets knowledge in. Yet there has been very little discussion of the importance of mother tongue to universal education.
In Africa, home to one-third of the world's 7000 languages, there is a drive to make education available only in European languages, primarily English, French or Portuguese. This misguided policy has resulted in fewer girls being educated, in lower educational attainment of both girls and boys and in lower literacy levels across Sub-Saharan Africa.
Language can be a door that keeps knowledge out or a window that lets knowledge in
Studies have shown why these policies are so detrimental to the 87% of Africans who have no access to mother tongue education, according to the UNDP.
Children acquire reading and math skills more quickly when they are taught in a language they know. It's so difficult to acquire these new concepts while at the same time learning a new language that it takes five to six years to achieve the same reading skills developed in three years or less in a mother tongue program.
In one study, 85% of Eritrean children taught to read in their mother language were fluent readers by the end of Grade 3 while fewer than 15% of Cameroonian students taught in English were good readers by the end of Grade 4, and only 47% were fluent by the end of Grade 5.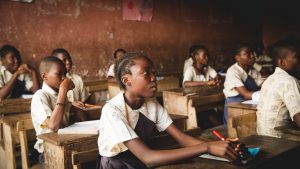 When children in the most linguistically diverse – and poorest – countries in Africa receive on average only four years of schooling, it's clear why a more effective mother tongue education matters.
One rationale behind making primary education available only in a foreign language is that children will have a better chance of prospering if they can speak English. Ironically, studies have shown that children with an educational grounding in their mother language actually achieve a higher level of English proficiency.
Furthermore, when the language of instruction is not well understood by the students, they are more likely to stay out of school. This particularly affects girls. According to Prof. Suzanne Romaine, "when given opportunities to learn in their home language, more girls enroll in school, develop stronger language and literacy skills, remain in school longer and achieve better results".
A fitting way to celebrate International Mother Language Day would be to raise awareness of mother tongues as windows to universal education and literacy.