An International network of linguistic experts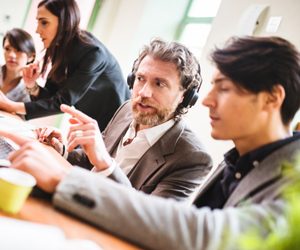 To help our customers communicate globally, Lexcelera has assembled a community of experts in linguistics, graphic arts, copy writing and technology. Many of these partnerships have spanned decades, going as far back as Lexcelera's early days in 1986.
This community includes:
Freelance translators representing more than 100 languages who work only into their native tongues
Interpreters who have graduated from accredited interpretation institutions
Sworn translators able to provide legally-certified translations
In-house and external linguists who provide quality assurance
DTP experts who ensure page layouts are respected
Journalists and copy writers who are word wizards
Computational linguists who optimize machine translation engine quality
Post-editors who bring computer-generated content to human quality
Engineers who build, process, test, compile
Partner companies offering single language specializations
Subject matter experts who provide additional in-country expertise
All members of the Lexcelera linguistic community are bound by confidentiality agreements in keeping with Lexcelera's ISO 9001 confidentiality procedures.
Do you want to become one of Lexcelera's linguistic experts?
Lexcelera's translators tend to come to us by one of two different routes.
Profile 1: A professional such as an engineer, energy consultant or lawyer with strong language skills decides to use his or her specialist knowledge as a translator.
Profile 2: A graduate of a translation school undergoes additional training to specialize in a particular field.
Translators who apply to Lexcelera must then undergo rigorous ISO 9001-certified recruitment procedures which include an initial test which on average is successfully passed by only 1 in 4 applicants.
Lexcelera's translation tests measure specialist knowledge, language ability and written fluency.
Once accepted to the Lexcelera translation team, translators undergo regular evaluations.
To qualify for jobs at Lexcelera, simultaneous and consecutive interpreters must have graduated from an accredited interpretation institution.
Are you a translator, post-editor, interpreter or other linguistic expert
who would like to join our team of international linguistic experts?