Earlier this year, we ran a client survey to understand how our clients feel about a range of issues, what their expectations from us are, and how we are currently performing. Client surveys are a regular feature at Lexcelera, given that they connect us directly to the client. And, what the client feels or what they are looking for is taken very seriously at Lexcelera.
In this post, we will talk about how our clients rated us on criteria important to them and what their additional service expectations from us are.
How we performed
An Overview:
All of our clients felt it was easy to very easy to work with us.
We handle more than 50% of most of our clients' translation needs – for some, it is 100%.
At least 96% of our clients would certainly recommend us to their peers.
We asked our clients about the priority they accord to some criteria and the satisfaction level they feel on these same criteria from Lexcelera's deliverables.
The full results are represented in the diagram below. The blue line represents clients' expectations while the chrome line represents clients' satisfaction levels on the criteria. We will comment on only 2 criteria: Circled in green is one area where we are over-delivering, and the light yellow shows an area for improvement which could have beneficial knock-on effects elsewhere.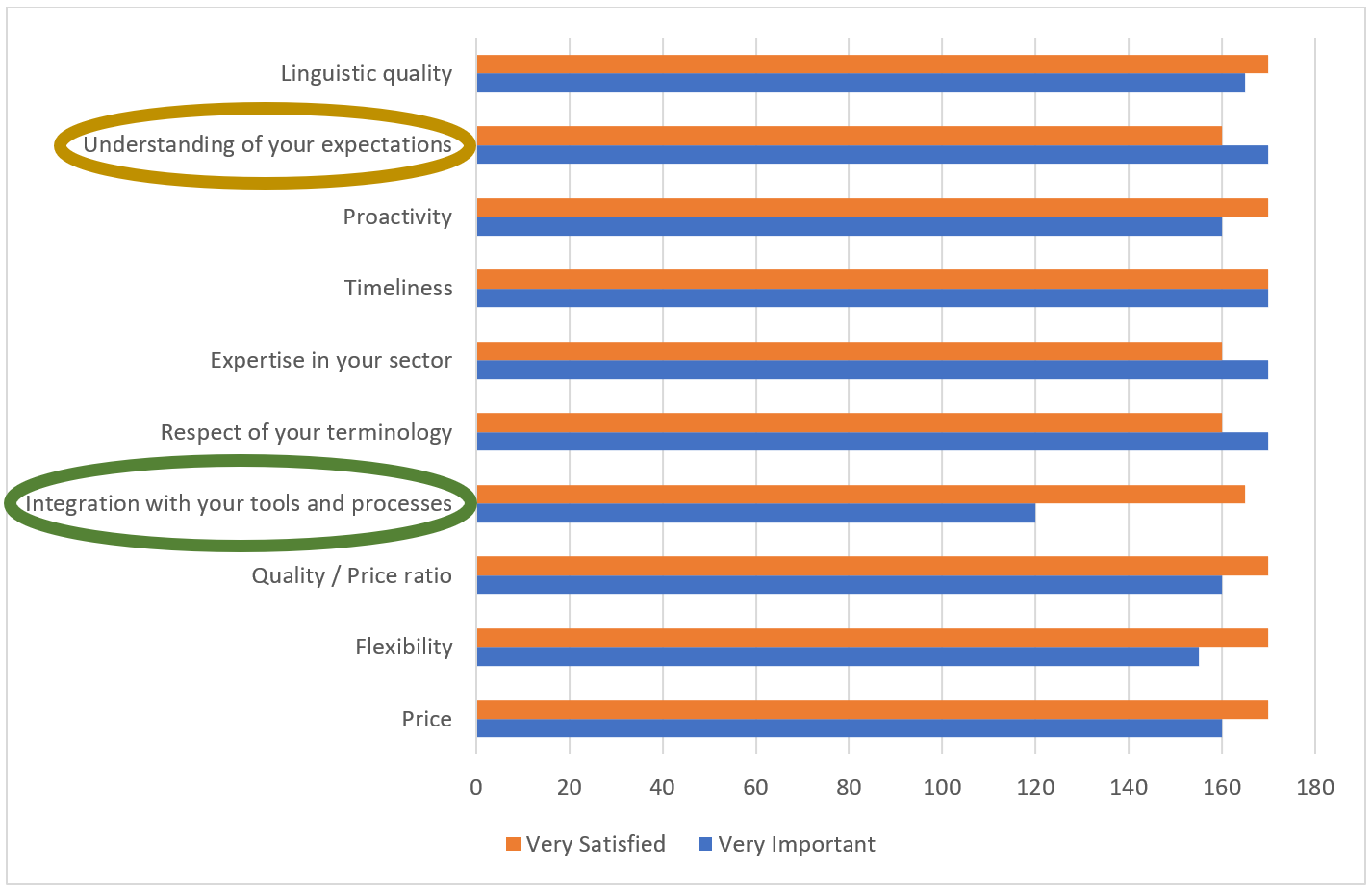 Our customers would like us to understand their expectations better, including non-verbalised ones. "Why do you want to translate, what is your goal, who is your audience, how important is this content to your end customer, why such a short timeline?" are some of our numerous queries. But we probably limit ourselves from asking too many too often.
As part of our continuous improvement, we are committed to communicating more with our clients, offering quick e-appointments to validate our understanding of the project scope.
Some of our clients work with their own tools and have well-established processes which serve their business requirements well. They mentioned that we have been able to integrate easily with their tools and processes. This is directly in line with Lexcelera's motto "We make global easy".
Additional services our clients require from us
Lexcelera has long grown from being only a translation agency to a company that partners enterprises in their journey to global markets. In this process, we are able to provide turnkey services to our clients to take their content from local to global (or multi-local). However, not all our clients are aware of the full range of our services.
That's why we asked them what other services they'd like to get from us. We already offer all of the services that they mentioned (listed below). So if you're our client and reading this, feel free to contact us right away about any service below: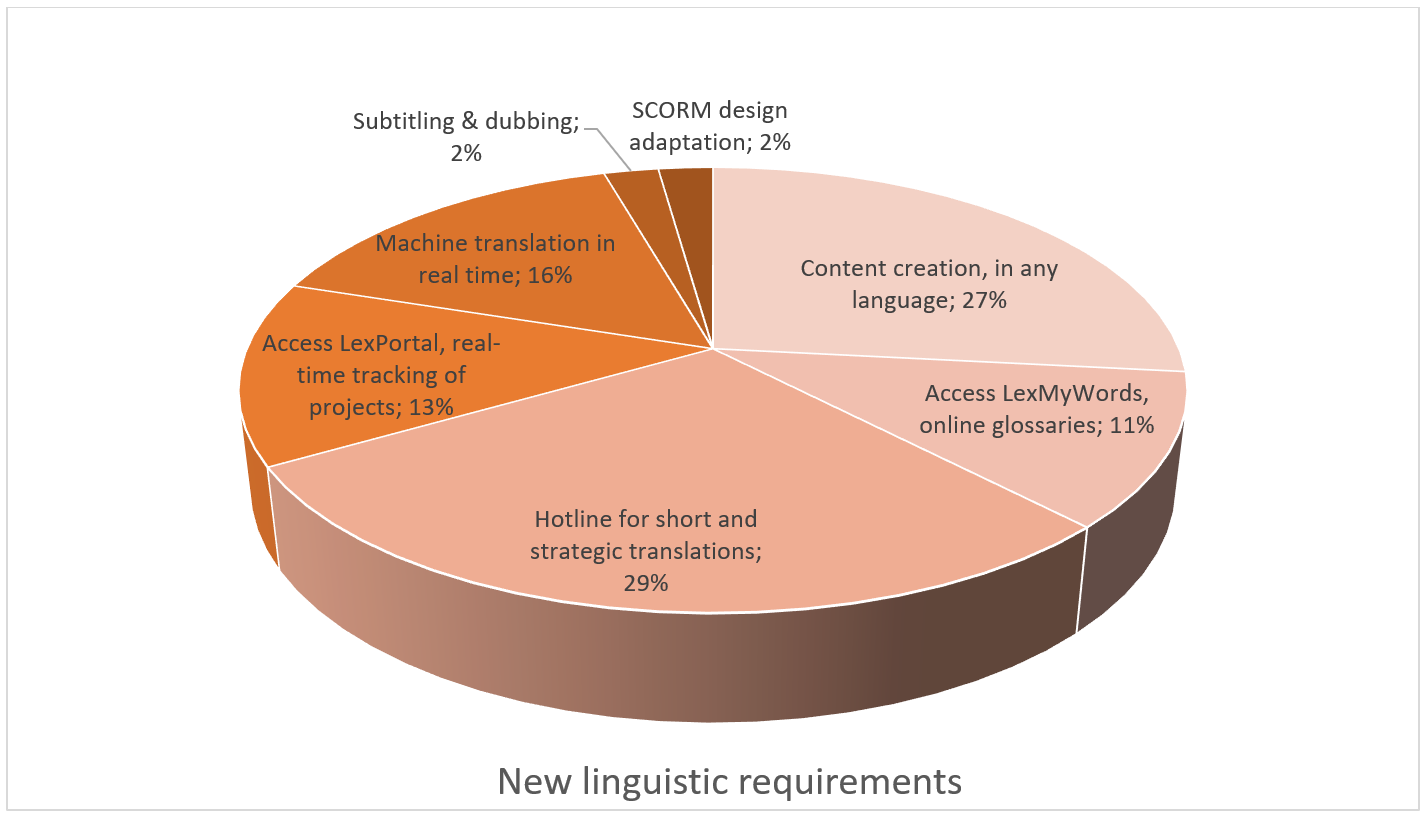 Hotline for short and strategic translations. About 30% of the clients mentioned this as a service they would like to obtain from us. It shows the changing nature of content and, hence, translation. Content additions are not always made in huge volumes. Sometimes, it's just a marketing tagline that needs to be translated. However, it may be required in 15 languages, and it must reflect the spirit of the original. Hence, though it might look like a small translation job, it's very strategic.
It also applies to strategic communication via mail to the management or to international clients. In this case, clients are mostly looking to have the translations proofread and reviewed by us. We offer this service 24/7.
Content creation services in any language. As content becomes the mainstay of marketing for companies the world over, we have been seeing increasing demand from clients for multilingual content creation. Our team of journalists, native-speaker editors, and graphic designers are always on call to help out clients with their emerging content needs.
Our project managers are keenly aware of the different types of content you might require and can guide you on what might work best for you. Our editors are not only expert linguists but also have their specialized areas of expertise.
Writing for the web is also our forte. The content we produce is optimized for search engines, so your customers can find you quickly.
Real-time machine translation. This was the next high-demand service with good reason. Machine translation is the way to go in the global content journey. Some content types generate a lot of volume and cannot be feasibly translated by humans. Nor is it even required. Speed and cost are more important than quality in content types such as social media, user help, legal discovery, and other repetitive content types. Social media translation is needed quickly and in huge volumes for our clients to gather competitive intelligence.
Clients can take advantage of instantaneous translation via the LexTranslator, a customized real-time translation widget. It is available in 50 languages for online content of various types including website content, online help, chat, and community forums.
Access to LexPortal for real-time tracking of projects. Our fully cloud-based portal lets clients keep a tab on the many projects that they run with us, with just a few clicks. It's centralized and has intuitive navigation which makes it easy to use.
Access to LexMyWords, online glossaries Widget. LexMyWords is the online terminology management application created and owned by Lexcelera. It helps clients to search our database for an industry-specific term. The data is confidential and is password-protected. A fully revamped version of the widget will be released in the coming months.
Terminology databases and glossaries are immensely useful in storing definitions of terms. It not only saves the translator's time, but also makes sure that the term is consistently understood by all the readers. As new terms are added or old ones deleted from the product literature, the changes are reflected in the glossary, keeping everyone up-to-date.
We encourage clients to tap into our full repertoire of services so that they get the convenience of availing all multilingual content-related services under one roof. It brings about greater continuity and consistency in quality. It also gives us a better opportunity to understand your business offering and accordingly work with you to make your international marketing a success.
Need help with a project?
With production offices in Paris, Buenos Aires, and Bangkok, and commercial offices in London and Vancouver,
at Lexcelera, we're available to deliver projects and answer questions 24/7—guaranteed.