eCommerce translation to unlock international markets
Lexcelera's eCommerce translation services cover all the major eCommerce platforms such as Magento, Shopify, Prestashop, WooCommerce, Volusion and BigCommerce.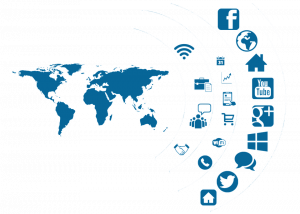 Unlike "brick and mortar" stores, eCommerce has the potential to generate sales beyond national borders thanks to translation.
To unlock international markets, Lexcelera offers localization of content and user interfaces as well as proprietary online tools for automatic translation of web pages and user reviews with powerful neural (NMT) or hybrid machine translation engines. Behind the scenes, Lexcelera's tools can translate data acquired from any language into any language. The multilingual SEO service includes research and translation of the highest performing keywords to bring in international customers.
Studies of online users found that over 50% of consumers only buy in their native language and that 90%, if given the choice, would always visit a website in their own language.
Yet today because of language barriers less than half of small to medium-sized eCommerce sites conduct their online sales cross-border.
Language is so clearly linked to eCommerce sales and competitiveness that every euro, dollar or renminbi invested in translation results in an estimated twenty-fold return on investment.
e-Stores that do not globalize are losing competitiveness and business opportunities both in Europe and the global market. Lexcelera aims to restore such competitiveness with:
the tools and the workflow to localize dynamic content,
automation for rapid updates and customer support, and
multilingual SEO.
How important is eCommerce translation?
Recently, the Common Sense Advisory, the language industry's leading research entity, surveyed consumers in 11 nations* about their online buying habits and preferences. The importance of language to eCommerce success is demonstrated by their findings:
60% rarely or never buy from websites that are not in their language
35% rarely or never visit websites that are not in their language
56% spend less time on a website when it's not in their language
67% prefer to have navigation buttons in their own language, even if not everything else is translated
55% will only make a purchase if the user instructions or owner's manual is in their language
72% prefer to have product reviews in their own language
51% would prefer to have local language content, even if it's poor quality
75% prefer buying products that have information in their language when faced with the choice of two similar products
74% are more likely to buy the same brand again if the after-sales service is in their language
* Brazil, China, Egypt, France, Germany, Indonesia, Japan, Russia, Spain, Turkey, United States
Lexcelera's vision is to become the world's leading supplier of language solutions to the digital sector. To do this we are harnessing our 30 years of experience in translation with our pioneering role in advanced language technologies.